Best Barbados Beach Bars on the West Coast.
Custom Search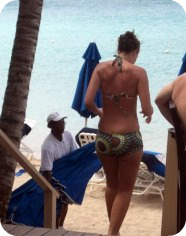 Barbados beach bars are one of the pleasures of going to the beach in Barbados even if you don't like getting in the water it's enjoyable just sitting and soaking up the sun, enjoying the local atmosphere and taking in the sights.
Suga Suga beach bar is located on Mullins Bay just South of Speightstown in the Parish of St. Peter, right on Mullins beach.
Better known as Mullins beach bar it's a very popular spot with both locals and visitors.
Get a sandwich and a cold beer or a drink and watch the action going on around you in the water and on the beach there's usually lots of it on this very popular beach.
For those that want to sit and watch the sun go slowly down over the Caribbean and see a really spectacular sunset the deck of Mannie's Suga Suga beach bar is one of the best places to do it.
And if you're lucky enough to have a group of friends with you or that special "other" it makes it an even more special experience.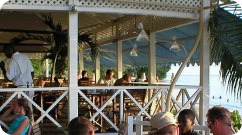 more about Mannies Suga Suga Beach Bar


---
Fishermans Pub and beach bar
A couple of miles North of the Suga Suga beach bar is Fisherman's Pub, located right on the Northern edge of historic old Speightstown Barbados.
It's not on a great beach because the water comes right up to the bar and there's little beach except at very low tide, so you can't take advantage of the usual Barbados beach activities.
But what it lacks in beach it makes up for in sheer ambiance and friendly people many of them local of course, because it is after all the Fisherman's Pub.
I remember when in the 70's just about all you would see in here were the hard working fishermen but times have changed.
Starting with some sailors from the U.S. naval base that used to be in the Northern part of the Island at the time.
Like military men stationed anywhere they looked for a convenient watering hole and found it in the Fisherman's Pub.
After finding that the local people were friendly and openly welcomed them into the pub it wasn't long before visitors from other parts of the world began to follow.
Today visitors from far and wide come to enjoy a real Barbadian meal and have a drink..or two and soak up the local atmosphere.
This is another of the many Barbados beach bars on the West Coast where you can get to meet some of the local folk or just relax with friends over a drink and watch the magical sunsets over the Caribbean Sea.

more about Fishermans Pub beach bar and restaurant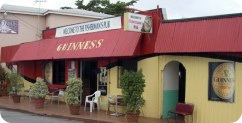 Return from Barbados Beach Bars to Best Barbados Beaches homepage