Lexy Piano Bar
The Lexy Piano Bar sometimes referred to as "the sexy piano bar", is a great place to have a night out while on your vacation in Barbados.
It's located in Holetown on the West Coast close to popular Angry Annies and Ragamuffins and other well known restaurants.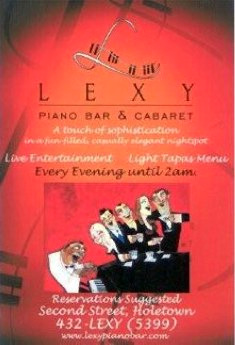 This vibrant bar has live nonstop entertainment featuring the former Broadway singer Alex Santoriello, and it hosts many international singers and entertainers.
Alex Santoriello the main attraction at the bar is well known for his Broadway roles in such famous musicals as, The Three Penny Opera and Les Miserables.
How did such a well known personality as Alex end up in Barbados, you might ask?
After leaving Broadway he began a concert career that brought him to this tropical paradise where he performed at the famous Sandy Lane Gold Cup Festival for three years.
Four years later the Piano Bar came to the West Coast of Barbados. It's a place for those expecting a more sophisticated and grown up type of entertainment.
The party at Lexys goes on until the early hours of the morning and the house is usually packed, locals and tourists know a good thing when they've found it.
The crowd you'll find at Lexy Piano Bar tends to be in their thirties and up and expect to have a good time, the music and requests played generally range from the oldies to todays newest tunes.
You might even be there when one of your favourite celebrities or even royalty such as Prince Harry shows up, seems it's his nightspot of choice while on Barbados.
Want to hear one of you favourites? If you have a request you're invited to shout it out and the piano player will happily start playing.
The crowd loves requesting their favourites and then singing along with them.
And if you return the next day it will be a different show because the entertainment is by request so no two nights are ever the same and you'll enjoy yourself even more the second time.
The Piano Bar also has special appearances starring both local and international performers which keeps the entertainment fresh and lively.
There's Happy Hour every weekend from 9 to 10 p.m. and you have to try the $10 mojitos, fantastic!
They also offer a great selection of wines, classy champagnes and sexy cocktails.
The attention to service at the nightclub is top notch, the staff is both friendly and very helpful.
Lexy Piano Bar is located on Second Street, Holetown, St. James, Barbados Telephone - 246-432-5399
Visit the nightlife centre of Barbados St. Lawrence Gap
Return from Lexy Piano Bar to Homepage