Barbados beaches East Coast ........ A walk on the wild side
Custom Search
Barbados beaches East Coast are strikingly beautiful with huge
Atlantic Ocean waves pounding the shore. Beautiful wide, pure white sand beaches stretch for miles creating a fantastic Coastline.
The dramatic Coastline goes for miles with the Atlantic crashing into sea formed rock formations that it created some looking like huge mushrooms.
I took these pictures in May 2008
As beautiful as the water looks it's safer to stay on the Barbados beaches East Coast .... it can be deadly with it's dangerous rip tides and undertows.
As tempting as it is to wade into the water it's not advisable incoming waves can pull you out to sea with their strong undertow.
If you really need to get cooled off do as the Barbadians do.
As the the waves crash into the reefs and boulders small shallow pools are created and you will see many locals enjoying these naturally formed pools to get a sea bath.
Looking inland the views are spectacular with the hills and Chalky Mount the largest of them facing out to sea providing the perfect backdrop.


---
Bathsheba
Located in the Parish of Saint Joseph on the East Coast of Barbados is the small fishing village of Bathsheba, made up of old time chattel houses and small wooden homes, it is spread out over the surrounding palm dotted countryside.
There are a few places where you can grab a bite to eat and a cold beer or rum punch. The Bonito Beach Bar and Restaurant comes to mind.
This Barbados restaurant offers real Bajan cooking such as fresh fish and chicken with garden fresh salads and vegetables
Located on the second floor of a building in the heart of Bathsheba, it's a treat to sit back with a cold Banks beer and watch what goes on in Bathsheba.
A number of wealthy Barbadians own vacation homes here and come for weekend get aways or to party, much like North Americans when they go to their cottages on week ends.
They also rent them out to friends and other Barbadians.
Are you looking for a beautiful Barbados vacation apartment to rent on the East Coast of the Island?
---
I think it has to be one of the most photographed of all places in Barbados because of its picturesque natural beauty.
---
"THE SOUP BOWL BARBADOS"
The Soup Bowl as it's known world wide has fantastic surfing conditions, and has become a surfers haven.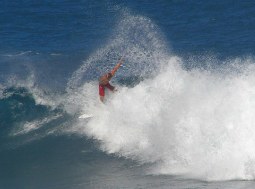 Because of Barbados' location in the Atlantic Ocean, the water that travels long distances to it's shores builds up power in the lower portion of the water.
When it finally breaks on the coral reefs that stretch around the Barbados beaches East Coast it releases the built up energy.
The results are perfect surfing conditions.
---
Barbados beaches East Coast hold surprises for those willing to get off the beaten track.
I was driving along the East Coast of Barbados a few years ago when I took a detour to go up an interesting looking dirt road to do some exploring.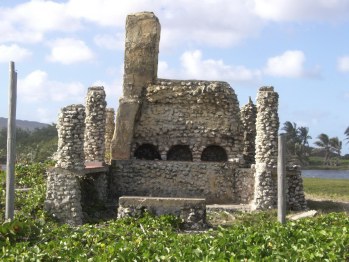 After wondering how I was going to turn around I came upon a clearing, the sight in front of me was like a flash back to when I read "Robinson Crusoe" as a kid.
Run down now with bamboo roof and walls gone it's still an interesting sight. I learned from my Barbadian friend Charles that it had been built by a fellow who was a little ..... eccentric.
---
Return from Barbados beaches East Coast to Best Barbados Beaches homepage