Barbados art galleries ... an art lovers paradise
Custom Search
If the number of
Barbados art galleries
are a reflection of the interest being shown in Barbados and Caribbean art and artists then they are finally being recognized.
The art community in Barbados has grown into a strong and vibrant one over the last few years and with it Barbados art galleries in various forms have sprung up island wide.
Now, art galleries - not the traditional kind - can be found in certain restaurants and hotels.
For example, Tides Art Gallery located in the Tides restaurant in Holetown on the West Coast presents some spectacular artwork from around the Caribbean.

On The Wall Art Gallery has been expanding and now has besides their very popular gallery at Earthworks Pottery three other locations.
There is gallery space at Champers Restaurant which is located on Accra Beach on the South Coast of Barbados.
South Seas Restaurant located in St. Lawrence Gap on the South Coast, they are displaying paintings for purchase in their lounge area.
On the West Coast On The Wall Art Gallery is located at Vans Art #10 Chattel House Village, in Holetown next door to Sunset Crest.

The Gallery of Caribbean Art in Speightstown, St Peter, which is in the North of the island is the largest gallery on Barbados and the recent remodelling has further increased its exhibition space.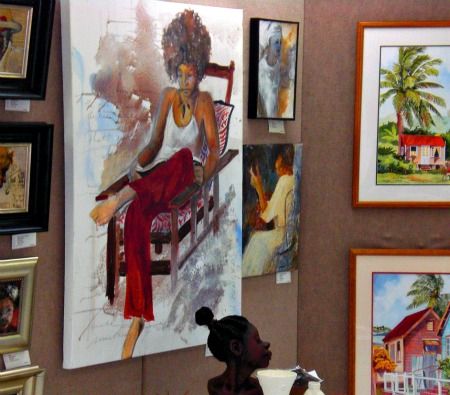 They also have another location in the lobby of the Hilton Hotel on the South Coast of Barbados.
The Gallery represents an impressive number of local and regional artists like, Vincent Castellanet, Rafsa Nehaul, Emma Cooling and Don Junior Small.
Both galleries feature many of their contributing artists and sculptors like Maggie Bell, Julianna Innis and Robert Campbell who often have centre stage.
Large sculptures in metal from Haiti and hand carved wooden masks from Africa complete the diversity of fine art.
Gallery Hours are:
9:30am - 4:30pm. Monday to Friday
10 am - 3 pm Saturday and Sunday.
Speightstown - Tel: 419-0858
Hilton Barbados - Tel: 434-5765
www.artgallerycaribbean.com
The
Zemicon Gallery
is a small, intimate Barbados art gallery owner run by Teresa Hadchity who is committed to the works of some of the most distinguished artists in the English speaking Caribbean.
Zemicon Gallery is located in the James Fort Building, Hincks Street, Bridgetown
Barbados has some incredibly talented artists that work in all media to produce wonderful and beautiful works of art from the traditional to the exotic most of which is inspired by their tropical Caribbean surroundings.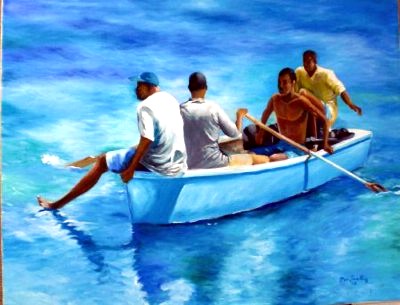 Oil painting, water colour the use of acrylics and other means of expression such as clay, metal and wood are all used.
Some very fine water colour artists like
Margaret Rodriguez creates amazing works filled with the colour of the tropics.
The old Barbados chattel houses that seem to be her favourite subject are beautifully done and even to a none Barbadian evoke a feeling of nostalgia.
Corrie Scott
Corrie Scott is another artist that has been making a name for herself in Barbados a self taught artist and photograper she has become quite popular.
Her work can be viewed at the Tides Gallery or the Arts Council Gallery at Pelican Village Craft Centre in Bridgetown.
Her studio is located at, #17 Pavilion Court, Hastings, Christ Church, or she can be contacted directly by phone (246)436-8377.
Most of the artists create works of art reflecting the local scenery and culture around them, producing works that are vibrant and colourful a true expression of the everyday life surrounding them.
What better way of remembering your holiday in Barbados than a piece of art hanging on your wall that brings back memories of being in paradise.
Even if you don't intend to purchase anything the time spent at one of the Barbados art galleries is well worth it.


Return from Barbados art galleries to Best Barbados Beaches home page