Pelican Craft Centre the best place for Barbados gifts and souvenirs
Pelican Craft Centre also called Pelican Village is a wonderful shopping area where you will find some of the best locally made crafts and souvenirs for gifts to remember your vacation in Barbados.
Be sure to visit some of the talented artists at their studios perhaps you'll find a unique treasure here as a reminder of your vacation in Barbados.
There is a wide variety of beautiful local craft work, much of it created out of the island's most readily available natural resources such as clay, wood, pandanus grass, palm leaves, bamboo shells and leather.
Pottery, batik, basket making, jewellery and wood carving are among the prominent local skills.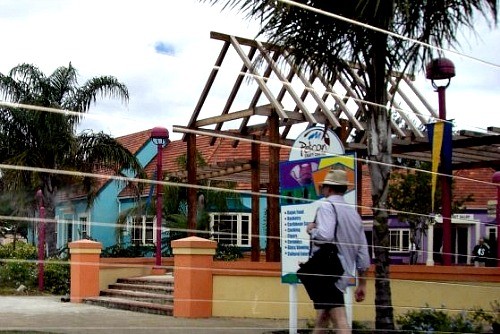 The village sits on land that was reclaimed from the sea it got its name from the small island, called Pelican island that became a part of Barbados when the deep water harbour was built.
Pelican Village is a lovely updated collection of more than twenty retail shops and work areas where you can see the craftsmen at work creating the items that are for sale in the shops.
It's a great place to do all of your shopping for the gifts and souvenirs of Barbados that you're going to take back home for friends and family.
The shops produce and sell many unique items such as:
Locally made T shirts
Traditional Barbadian rum cakes
Carvings and sculptures made from Barbadian Mahogany wood
Straw basketry and wall hangings
Pottery made from local Barbadian clay
Paintings and sculptures
Metal artwork

Fused glasswork
Hand rolled Cuban cigars
Besides the retail shops you will find a couple of restaurants, pay phones are available as are public washrooms. Wheelchair access to the shops is provided.
Getting to Pelican Village is easy from the West or South coast by bus and there's plenty of parking if your driving.
Pelican Craft Centre is located outside of the main shopping district and on the outer edge of Bridgetown Capital of Barbados off the Princess Alice Highway.
It's only a five minute walk from the cruise terminal, making it a very popular spot for cruiseline passengers as they enter Barbados.
The operating hours are from:
Mon - Fri: 9:00 am - 6:00 pm
Sat: 9:00 am - 2:00 pm
Tel: (246) 426-0765
In addition to the many craft outlets in Pelican Craft Centre, there are several festivals held to celebrate aspects of the island's culture where local craftspeople showcase their work.
These include the Holetown Festival, Crop Over's Bridgetown Market, the Oistins Fish Festival, the Barbados Museum's Christmas Craft Fair and the Barbados Yacht Club's Annual Bazaar.


Return from Pelican Craft Centre to Barbados Shopping

Return from Pelican Craft Centre to Best Barbados Beaches