Barbados restaurants .. from casual to world class
When making plans to go to one of the great Barbados restaurants there are a couple of things to keep in mind so that your evening isn't ruined.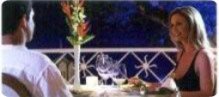 The most obvious and most overlooked is checking to see if reservations are required, give the restaurant of your choice a call to avoid disappointment.
There are many well known and very popular dining spots in Barbados and some definitely need to be booked in advance.
Although your on a vacation in Barbados and the lifestyle is pretty casual and relaxed it's best to check what the dress code is for the restaurant you're planning on going to.
Casual evening wear is suitable for most places but a quick phone call to confirm is a good idea.
When it comes to tipping a number of restaurants include a service charge on the final bill so be careful.
If you found the service to be exceptional a personal tip to the person that served you is always appreciated.
On the fabulous West Coast there are some really great dining spots for both the food and entertainment.
Here are some of my favourite restaurants and samples of their menus.
The South Coast of Barbados has a large number of fine dining establishments, serving foods from Mexico to authentic Barbadian cuisine.
Most have entertainment some days of the week.
No matter what your tastes in dining are you're sure to find a restaurant that you will enjoy on this fantastic Caribbean island.
Return from Barbados Restaurants to Best Barbados Beaches homepage