Fish Pot restaurant Barbados
Fish Pot Restaurant Barbados
Reservations 439-2604 Shermans, St. Peter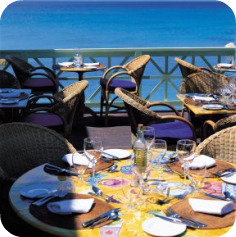 This delightful seaside setting in the picturesque Six Men's fishing village is one of the last remaining undeveloped corners of the west coast.
The Fish Pot at Little Good Harbour is a very attractive alternative to the usual glitz and glamour of the fashionable west coast and it's charm is enhanced by the fact it's part of an old 17th century British fort.
The Fish Pot is stylishly casual in appearance and offers friendly, efficient service.
Chef Stephen Belgrave's menu is inspired by the sea and he makes good use of the freshest produce available, infused with local herbs spices and fruit, to create a fresh and exciting array of dishes.


Sample Menu Bds$
Appetisers: $20-$40
Seared Scallops On lentil cous cous with a cucumber dill dressing
Pickeled Conch Salad With an avocado & mango salsa.
Blue Shelled Crab Cakes On a thai seaweed salad with a red curry aioli.
Mains Course $48-$120
A Hai Tuna Seared herb crusted tuna with Wasabi butter.
Grilled Caribbean Lobster With a garlic & tarragon butter.
Pan Roasted Loin Of Pork With a warm Apple cider dressing.
Desserts: $20-$30
Traditional Home Made Apple Pie With cinnamon ice-cream.
Iced Berry & Fruit Cocktail
With warm chocolate sauce.
Chocalate Decadance With vanilla Analise and homemade sorbets
Oceanfront . Lunch & Dinner . Private Functions
More fantastic Barbados restaurants on the South and West Coast to check out.
Return from Fish Pot restaurant Barbados to Barbados Restaurants

Return from Fish Pot restaurant Barbados to Best Barbados Beaches