The Tides restaurant Barbados
The Tides Restaurant Barbados
Reservations - 432-8356/7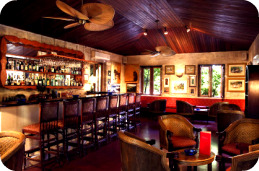 With a beautiful location on the edge of the sea the Tides continues to go from strength to strength.
Having ascended to one of the top 3 Restaurants in Barbados last year.
A Zagat report contains compliments such as "never an off-day'. "imaginative". "consistently excellent", "beautifully presented" and "doting staff that are the epitome of excellence".
By virtue of their hard work and dedication, CHEF guy Beasley, his wife Tammie, manager Henry Sealy and their first-class team having developed a restaurant of the highest order that has earned its right to be a must do dining experience for both lunch and dinner.
A cool and comfortable, coral stone lounge offers a relaxed atmosphere for cocktails and houses the Tides Art Gallery.
Sample Menu Bds$
Appetisers: $60-$75
Half Dozen English Rock Oysters
Served warm resting on garlic scented spinach and glazed with hollandaise sauce.
Sauteed Spiced Jumboshrimp & Thai Scented Crab Cakes
Served with a red curry coconut coriander cream
Main Course $85-$90
Roast Mahi Mahi
Served resting on a lemon, cashew & smoked Bacon pilaf, with seared asparagus and finished with f caramelized orange beurre Blanc
Roast Rack Of Colorado Lamb
Rolled in a herb & pano bread crumb served resting on Parmesan polenta and fresh mint jus.
Desserts $27-$35
Caramel Banana & Baileys Bread & Butter Pudding
Little Sticky Toffee Pudding
Topped with warm toffee sauce, roast nuts and vanilla ice-cream
Oceanfront - Valet Parking -Bar - Art Gallery
More fantastic Barbados restaurants on the South and West Coast to check out.
Return from The Tides restaurant Barbados to Barbados Restaurants