Mangos restaurant Barbados
Mangos restaurant Barbados
Reservations 422-0704 Speigthtstown, St. Peter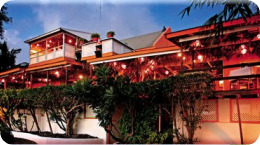 This award winning fine restaurant is passionate about service excellence.
Their ever popular grilled steak, lobster and ribs, creative fish and seafood dishes, extensive choice of wines and must have cocktails keep happy customers coming back for more.
Set amongst swaying bamboo trees and hanging palm leaves, candle lit tables occupy a terrace overlooking the tranquil Caribbean Sea, close enough to hear the relaxing sound of the waves as you dine.
The new rooftop terrace is perfect for intimate gatherings and private parties, Mangos is definitely Speightstown's Hot Spot!
Lobster available in season.
10% service charge.
Visa,MasterCard & AmEx accepted
Open every evening from 6:00pm.


Sample Menu Bds$
Appetisers: $18-$49 Always fresh, imaginative and tempting.
Mille Feuille Of Smoked Marlin & Salmon
Smoked marlin and smoked salmon, layered between filo pastry disks,mixed greens and drizzles of tomato, red onion & caper salsa

Main Course $54-$110
Tropical Blackened Fish
The fresh daily catch prepared with blackening spices nestled on savory calypso rice with a panache of vegetables and drizzles of tropical fruit salsa.
Filet Mignon
Absolutely the best steak you will every try! This choice US filet Mignon if complemented with a red wine, herb & mushroom peppercorn cream sauce.
Grilled Caribbean Lobster
Mango's is the home of the best lobster dishes! Simply Outstanding! Grilled in a white wine,lemon & garlic butter sauce.
Dessert $18-$24
Tropical Carrot Cake
With a unique blend of nuts & spices and a cream cheese frosting. Served with vanilla ice-cream.
Caramelized Granny Smith Apple Tart
This upside down tart is served piping hot with home made vanilla ice cream.
Oceanfront . Private Dining room . Bar . Art Gallery
More fantastic Barbados restaurants on the South and West Coast to check out.
Return from Mangos restaurant barbados to Barbados Restaurants