Lone Star restaurant Barbados
LONE STAR RESTAURANT BARBADOS
Reservations - 419-0599 - Mt.Standfast, St. James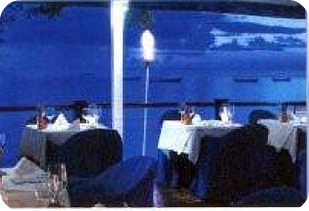 After eleven very successful years, the Lone Star continues to offer a spectacular beachfront setting with a wonderfully elegant yet relaxed atmosphere in the restaurant.


There's now the new Desperado's bar & lounge area by the beach.
Chef Franco Parisi, now in his fourth year at the Lone Star, just keeps getting better.
Not to be missed!
Lunch: $25-$115. Full wine list.
Tip at your discretion.
Visa/MasterCard accepted.
Open every day. Bar open from 10:30am. Lunch from 11:30am, last orders for dinner at 10:30pm.
Every Sunday, three course "English Sunday Roast' available at set price of BDS $120.
Sample Menu Bds$
Appetisers (Dinner): $25-$55 Lobster & Prawn Salad With papaya salsa & cucumber mint dressing.
Thai Chicken & Mango Salad
with rice noodles, peanut & chili dressing.
Mains (Dinner): $45-$120
Blackened Dolphin (Mahi Mahi)
Sweet potato mash, papaya lime salsa
Lone Star Surf & Turf Kebab
lobster and Angus beef with roast vegetables and a green peppercorn sauce.
Seared Tuna With Chinese cabbage, ginger, garlic and soy.
Dessert: $25-$30
Lone Star Dame Blanche light chocolate brownie & vanilla ice cream, Chantilly & chocolate sauce.
Tempura Banana Kebabs With cinnamon sugar and ice cream.
Lunch & Dinner - Beachfront - Bar
More fantastic Barbados restaurants on the South and West Coast to check out.
Return from Lone Star restaurant barbados to Barbados Restaurants