Coast restaurant and bar
Coast Restaurant & Bar
Reservations - 418-9992 - #1 St. Lawrence Gap, Christ Church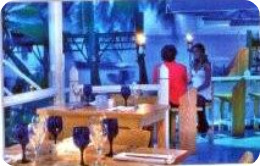 Co owner and head chef Zak Bradshaw and his team have put together a stunning lunch and dinner menu serving the finest international cuisine with strong English and Bajan influences.
At Coast restaurant they are proud to use local seasonal products in order to create the perfect meal.
Situated at the entrance to the fantastic St. Lawrence Gap, nighttime entertainment centre of Barbados, Coast has beautiful views of picture perfect St. Lawrence bay.
The sea front patio is the perfect place to sit and watch the world go by, sampling a brilliant cocktail and drinks list such as bashed apple, toasted pink, pineapple pepper and mojuts.
Dining inside and outside. Free and private parking.
Dress elegantly casual. Cocktail bar open late.
Sample Menu Bds$
Appetisers: $18-$27
Flying Fish Caesar Cos lettuce, tomatoes, Caesar dressing and flying fish tempura.
Local Pumpkin 'GNOCCHI' With sauteed mushrooms, tomato fondue and Parmesan.
Shellfish Bisque With sweet corn, crab & garlic toasts.
Main Course $35-$70
Moroccan Spiced Leg of Lamb Stew With herbed couscous, minted yogurt & eggplant puree.
Bajan Seafood Paella With spicy cured ham and squid.
Con fit Chicken With sweet potato-vanilla mash and garlic lemon & herb sauce.
Desserts: $18-$26
White Chocolate & Baileys Cheesecake With warm chocolate sauce.
Creme Brulee With freshly baked sable biscuits
Hot Chocolate & Orange Pudding With vanilla ice cream.
Seaside Setting - Cocktail Bar - Private Parking
More fantastic Barbados restaurants on the South and West Coast to check out.
Return from Coast Restaurant to Barbados Restaurants

Return from Coast Restaurant to Best Barbados Beaches