Ragamuffins restaurant Barbados
Ragamuffins Restaurant Barbados
Reservations 432-1295 - 1st Street, Holetown, St.James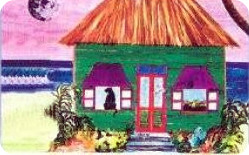 This new and refurbished Bajan chattel house is home to this fanciful restaurant in Holetown, St.James.
Where both the food and the surroundings have true Caribbean flavour, tasty fare and witty accommodating servers.
There's a drag show every Sunday night making for an entertaining evening.
Dine in the tropical garden area or in the lively interior.
Ragamuffins is small and cosy so booking is advised to avoid disappointment.
Great value and high standards! Avoid the pretentious - join the fun!
Recommended in Gourmet Magazine, Bon Appetite, Tatler & the London Sunday Times.
Casual attire and positive attitude requested.
Sample Menu Bds$
Appetizers: $11-$50 -$25-$50
Bajan Flying Fish Salad
Local Fishcakes With Dip
Main Course $42-$68
Blackened fish with garlic Aioli
Caribbean Stir Fry Shrimp
West Indian Curry Chicken
Creole Jerk Chicken Salad
Vegetarian Ital Stew
Dinner . Friendly & Informal . Delicious Cocktails
More fantastic Barbados restaurants on the South and West Coast to check out.
Return from Ragamuffins restaurant Barbados to Barbados Restaurants