Bellinis Trattoria
Bellinis Trattoria
Reservations 420-7587 St. Lawrence Gap, Christ Church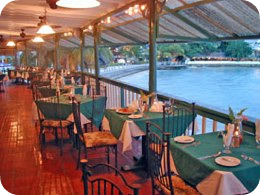 Bellini's Trattoria at the entrance to St. Lawrence Gap, entertainment centre of Barbados is the perfect place for great Italian cuisine.
Bellini's cool balcony overlooking the lights and life of St. Lawrence Bay and lagoon make this one of the most beautiful settings on the south coast.
The menu offers the finest selection of Italian cuisine, beautifully prepared with fresh herbs and tasty sauces.
Selections include fresh seafood, steak, chicken and gourmet pizzas.
The chef's secret , the pasta is made fresh daily and pasta lovers know the difference!
Bellini's has the best selection of Italian wines and liqueurs in Barbados and their Bellini Cocktail made with iced Champagne and fruit nectar is a favourite with repeat patrons.
Open every night from 6pm -last seating 10:30pm.
All major credit cards accepted
Sample Menu Bds$
Appetisers $10-$32
Calamari Fritti - $26
Fresh tender squid
lightly floured then deep fried, served with lemon wedges and homemade tartar sauce.
Misto Mare
A combination of shrimp, scallops and calamari in a tomato & garlic herbed lemon dressing. Served on a bed of rocket green.
Pizza & Main Course $30-$78
Shrimp Bellini
Jumbo shrimp sauteed with garlic, plum tomatoes & brandy tossed in a parmigiana cream sauce, served with linguine.
Chicken Frederico
Tender breast of chicken stuffed with spinach & herbs with a chardonnay cream sauce. Served with seasonal vegetables and your choice of rice or potatoes.
Desserts: $14-$19
Bellini's Cheese Cake Homemade cheesecake - flavours change daily!
Chocolate Mousse Cake Sinfully delicious!
Dinner - Ocean front -Great Italian Cuisine
More fantastic Barbados restaurants on the South and West Coast to check out.
Return from Bellinis Trattoria to Barbados Restaurants

Return from Bellinis Trattoria to Best Barbados Beaches homepage