Barbados news ... The Advocate and the Daily Nation newspapers
Custom Search
The old Barbados news media is made up of two major newspapers the Barbados Advocate newspaper which was founded in 1895 and is the longest published newspaper on the island.
The competitor the Daily Nation Newspaper was established in 1973 and holds the position of being number one.
It also started to publish a weekly edition of the news paper in 2004 to serve a growing overseas community in Canada.

---
Barbados newspapers - Bajan news
Barbados Advocate
---
Barbados Free Press and Barbados Underground .. popular online news blogs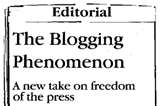 The new media is made up of various blogs that can and do provide some interesting insights into current events as seen by others without the usual political filters, the Barbados Free Press being the most popular.
The Free Press has had four million visitors since it was started in January of 2006.
Barbados Free Press
---
Another new media source of information is Barbados Underground, not as large a following as the Barbados Free Press blog but it's still a good read for the views that it imparts.
Barbados Underground
---
Return from Barbados News to Best Barbados Beaches homepage