The Barbados marine reserve is a wonderful way to spend the day
The Barbados Marine Reserve is located between Holetown and Speightstown on the West Coast of Barbados just past Sunset Crest on the left hand side if your going North.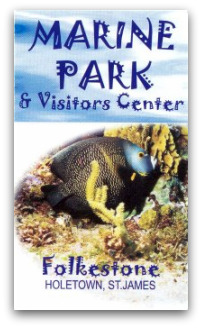 It's an enjoyable way to spend the day, and it's a learning experience for kids and adults alike about the underwater life in Barbados.
The headquarters of the marine park are at Folkestone visitor centre, Folkestone, St. James, where an interpretation centre is located for the public to view specimens of some of the sea creatures in the waters surrounding Barbados.
I was amazed when I saw the size of some of the crab and lobster skeletons on display not to mention the huge corals.
Or you can spend the day swimming, snorkeling or rent gear and go scuba diving.
The park has been divided into four zones so that different activities can be carried on while protecting the coral reefs.
Northern Water Sports zone
Southern Water Sports zone
The recreational zone is where you can snorkel around the inshore reef.
If you're into scuba diving boats can be hired to take you out to the dive sites on Dotting's reef, part of a seven mile stretch of reef which is only a quarter to a third of a mile off shore.
The clarity of the Caribbean sea on the West Coast of Barbados is incredible year round and the coral density is fantastic.
There are steep drop offs for excellent diving in this area.
The coral reef is home to an abundance of fish, sea anemones, huge man sized sea fans, soft corals and sea lilies.
For experienced divers the Barbados Marine Reserve has the "Stavronikita" a 365 foot freighter that was sunk to form an artificial reef.
It rests in about 120 feet of water and is only about a half mile off shore.
The main deck of the ship is only about 40 feet from the surface with the main mast only about fifteen feet from the surface.
It's a dive for the experienced diver with a partner because of its depth but it's a dive that will be remembered for a long time and if you have an underwater camera you'll get some great shots.
Watersports operators are available to take divers out to the wreck site.
All activities in the Underwater Park area are protected by legislation for the survival of all marine life.
By law you are forbidden to remove any marine objects or sea life including coral. And fishing of any kind is prohibited in the Marine Reserve.
Snorkelers and swimmers are advised to use the bouyed areas for safety.
The visitor Centre is open - Mondays - Fridays - 9:30 a.m - 5:00 p.m
Saturdays - Sundays - 10:00 a.m. - 6:00 p.m
There is a small charge to get into the marine museum. For more information - Tel: (246) 425-1200
Discover Caribbean Scuba Diving Vacations


Return from Barbados marine reserve to West Coast Barbados

Return from Barbados marine reserve to Best Barbados Beaches