A Barbados car rental is a must ... if you want to find those out of the way places to see
Barbados has a great bus system but a Barbados car rental makes seeing attractions like Harrisons Cave, the Flower Forest or Welchman Hall Gully very convenient.
These attractions are all located in the "Scotland District" as it's known or the central and Northern parts of the island and having a hired car will make visiting them very easy.
Just driving is an adventure, how many times in your life will you drive on a Caribbean island with sugar cane fields on both sides of the road towering above you?
A Barbados car rental is really required if you want to get into the little towns and villages and do some serious sight seeing at your own pace.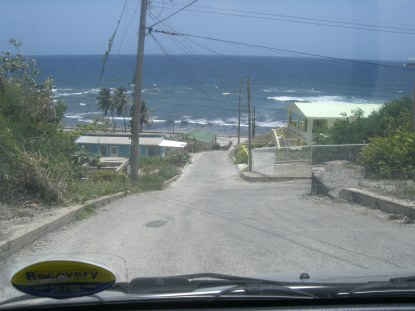 It's very easy to take possession of a Barbados car rental, most companies will deliver the car free of charge right to your Barbados vacation rental, be it a hotel or a private rental by owner.
A temporary driving license is a must, this can be issued by the car company you choose, it's only $10 Barbados.
A valid drivers license from your country of issue must be presented at the time of the rental.
Drivers applying for a car rental must be over 21 and under 70 years of age and have four years of driving experience.
Some tips on driving in Barbados.
Driving is on the left hand side of the road.
When coming to an intersection many times instead of having stop lights you will encounter what is known as a round about, always give way to the vehicle on the right.
If you are taking the first left exit off the round about you stay in the left lane, and for all other exits off the round about you should stay in the right lane.
Here are a couple of safety tips for you
.
These tips you would probably use in your home country but for some reason people tend to forget when they're surrounded by friendly and mostly honest Barbadians.
Unless you know the Island forget picking up a rental from the airport it's a lot safer to get a good nights rest before driving when your not familiar with the country.
All rental or "hire" cars in Barbados have an "H" on the license plates making them readily identifiable that they are most likely tourists.
When leaving the car make sure anything of value is out of sight put your items in the trunk or glove box, and make sure you roll the windows up and lock the doors, it's worth the bother.
Don't be the nice guy and offer rides to strangers or hitch hikers.
Make sure you have plenty of gas in the car when going wandering around the Island, gas stations are few and far between especially in the countryside.
Cheap Barbados car rentals
are hard to find but you can find places that negotiate on price depending on length of time that you have the car.
The Barbados car rental company I've been using for years is, Mangera Car Rentals Barbados - phone(246)-436-0562
They're not the biggest but Mr. Mangera has always been very helpful.
Another car rental company that has come highly recommended is,
Stoutes Car Rental Ltd. - The seasoned staff meet arriving clients at the airport or deliver the vehicles to any local address, they also provide detailed maps of the island and directions to their destination.
A 24 hour roadside assistance is offered to all customers. The company's large fleet of well maintained vehicles is backed by decades of experience.



Custom Search
Return from Barbados Car Rental to Best Barbados Beaches homepage