Harrisons Cave ... they say it's the eighth wonder of the world
Custom Search
Taking a tour of Harrisons Cave is a wonderful experience and the highlight of many visitors trip to Barbados.
The Cave is named after Thomas Harrison the owner of the land in the 1700's, now best known in Barbados for establishing Harrison College a school for the well to do.
In the 18th century several ventures were made into the cave to explore it but were not successful and it remained an unexplored mystery until the 1970's.
Explored and mapped in 1974 by Ole Soresen a Danish engineer by profession and cave adventurer during his vacation time.
The Barbados Government saw the potential of the cave system as a great tourist attraction and began the long process of developing the cave system so that it could accommodate visits by the public.
It was finally opened to the general public in 1981. When I first visited shortly after its opening my first reaction was one of astonishment at its beauty, not having realized that such a cave system existed in Barbados.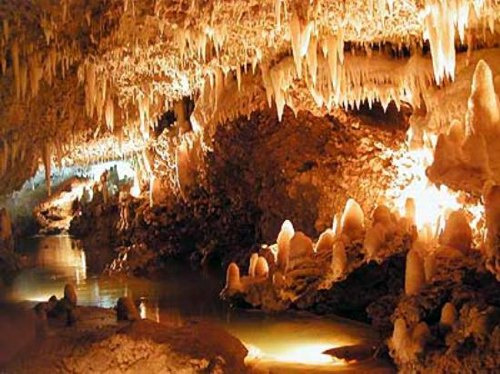 Before the start of the tour into the cave they show an interesting video telling you how Barbados was formed.
The tour of the Cave is made by electric tram. You get issued a hard hat mainly to keep your head dry because you're not going to hit it on anything, but there is dripping water from above so be prepared to get a little damp.
It's also quite cool the average temperature is about 27 degrees Celsius.
Harrisons Cave is a massive cave system at least 2.3 kilometers long with a stream and crystal clear pools. It has impressive stalagmites and stalactites with a main chamber called, "the great hall" rising 15 meters/50 feet in height.
You don't realize how large Harrisons Cave is until about halfway through the tour when the tram stops here.
The tram stops a couple of times for close up looks at the cave and photo taking opportunities so make sure to bring your camera.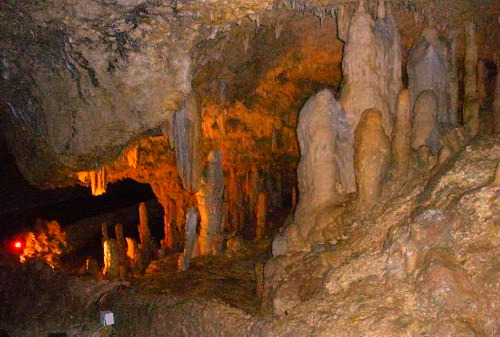 The unusual flowstone formations are quite beautiful especially because of the artificial lighting throughout the cave.
At another point in the tour the tram stops and you're told that you are about to experience the darkness the first explorers of the cave did - it's a very eerie feeling.
GETTING THERE
To get there by car can be challenging for the first time visitor but with a map and asking a friendly Barbadian along the way plus the road signs and you will be able to find it.
From downtown Bridgetown it's about a thirty minute ride by bus and you get to see the local countryside on the way a nice tour in itself.
Harrisons Cave is located at
:
Welchman Hall Gully in the Parish of St. Thomas
Tour times are
:
First tour: 9:00 a.m.
Last tour: 3.45 p.m.
Admission
:
Adult: $40.00 BBD
Child (16 years and under): $20.00 BBD
For more information call:
Return from Harrisons Cave to Barbados Tourist Attractions

Return from Harrisons Cave to Best Barbados Beaches