Gun Hill provides a fantastic view of the beautiful rolling countryside of Barbados
Custom Search
The
Gun Hill Signal Station
was first brought to my attention while reading a book by the historian
Robert Schomburg
who wrote about it in 1884.
In his book he writes, "The ridge of cliffs, a continuation of those in St. John, traverse St. George and reach their greatest height near Gun Hill, where there is a signal post and a convalescent station for the soldiers of the Garrison.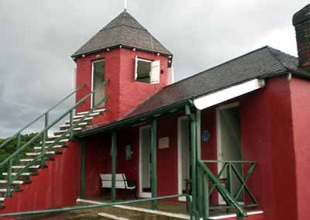 The air here is considered very salubrious, and the view from the station over the rich and fertile valley to Bridgetown and Carlisle Bay, is extensive.
No stranger who visits Barbados should omit seeing this spot."
How right he was then and still is today.
A little history about Gun Hill ..
The Station was built in 1818 and is located in the beautiful Parish of St.George.
It was in it's time the largest and most important of six military signal stations built where artillery was installed to give advance notice of sighted ships.
The others being:
Dover Fort, St.Peter
Grenade Hall Signal Station, St.Peter
Cotton Tower, St. Joseph
Gun Hill, St. George
Moncrieffe, St. Phillip
Highgate, St. Michael
Warnings would be signaled to other stations of the approaching vessels.
The signal stations were also used for sending news such as, civil uprising, sugar cane fires or any disaster that might be taking place on the island using flags or semaphore and lantern codes to communicate across the island to other stations.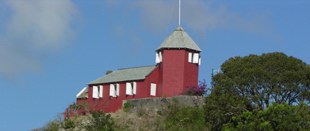 The station is situated on the highest hilltop in the Parish of St. George and provides one of the best all around views especially to the South and East of Barbados.
The station was also used as a convalescent area for the evacuation of the Garrison in Bridgetown when epidemics such as yellow fever broke out.
There are a lot of items from by gone days and the guides give a very good insight about the local history.
There is a small but very interesting display of military memorabilia, this includes flags of the various army regiments that were stationed in Barbados.
There are also some maps showing the islands many forts - by 1728 as many as 23 had been built on Barbados.
Gun Hill Signal Station is now looked after by the Barbados National Trust.
The Lion at Gun hill
As the story was told to me by a Barbados police officer friend when I first saw the lion in the 70's.
There was a Captain Henry Wilkinson an officer at the Signal Station in 1868 that spent his off duty hours and creative energy carving a huge lion from a single piece of coral stone.
The lion stands with one foot resting on a ball which is representative of the might of the British Empire over the world at that time in history.
The lion still stands to this day on the hillside just below the tower.
Return from Gun Hill Signal Station to Barbados Tourist Attractions

Return from Gun Hill Signal Station to Best Barbados Beaches