Brown Sugar restaurant
Brown Sugar restaurant
Reservations recommended - 426-7684 or 436-7069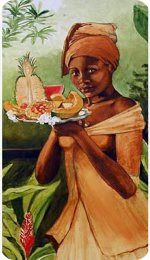 This dining spot is the place to sample the authentic flavours of Bajan cuisine.
This charming Barbadian home has been beautifully restored with lush fern covered patios and cascading water gardens.
Their Planter's Buffet Luncheon is an all you can eat four course feast of Barbadian and Caribbean specialties including flying fish, cou cou, fish cakes, bul jol, souse, the famous pepper pot and the largest array of freshly made in house homemade desserts.
At dinner taste the Bajan culinary delights such as Creole fish chowder, coconut beer shrimp, plantain crushed mahi mahi or broiled pepper chicken.
Enjoy live entertainment at this fantastic dining spot on selected nights.
Daily buffet $54
Sunday Buffet $65
A la carte dining Mon-dun 6-9:30pm (10pm in season).
Major credit cards accepted
Sample Menu Bds$
Appetizers: $11-$27
Cou Cou & Flying Fish (the National dish)
A smooth blend of cornmeal and okra served with, lightly seasoned and poached flying fish roll ups in a Court bullion.
Coconut Beer Shrimp
large Guyana shrimp crispy fried in a coconut batter flavoured with beer, with a spicy cucumber yogurt relish.
Main Course $36-$85
Plantain Crushed Mahi Mahi Dolphin
filet of mahi-mahi dolphin coated with a blend of plantain chips & cornmeal,sauteed & served with a plantain & pineapple chutney.
Stuffed Roast Pork Caribe
Lean Barbados pork with a plantain & bacon stuffing, served with traditional Bajan pan gravy.
Desserts: $12-$18 Warm Paw Paw Pie Served with vanilla ice-cream
Bajan Bread Pudding Baked with rum plumped raisins, served with a local rum sauce.
Bajan Cuisine - Lunch & Dinner - Entertainment
More fantastic Barbados restaurants on the South and West Coast to check out.
Return from Brown Sugar restaurant to Barbados Restaurants

Return from Brown Sugar restaurant to Best Barbados Beaches homepage