Cafe Sol Mexican Grill
Cafe Sol Mexican Grill & Margarita Bar
St. Lawrence Gap, Christ Church TEL: 420-7655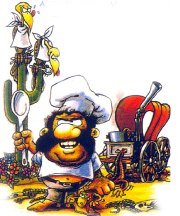 In the heart of The GAP, cafe Sol is the island's original Mexican restaurant.
This lively fun spot bursts to life seven days a week and features an extensive "Tex-Mex" menu in an easy going and informal atmosphere.
Enjoy two happy hours nightly 5-7pm & 10-11pm. Margaritas are a specialty with 15 fruity flavours on offer!
The menu boasts a wide variety of Mexican favourites, from cheese nachos to sirloin steak soft tacos.
Also available is a 'Gringo" menu, featuring char grilled chicken and steak, BBQ Burgers and more.
Wild Fiesta Fridays on the last Friday of every month, from 5pm until closing 2 for 1 tequila shots. 2 for1 Margaritas and 2 for 1 Corona beer!
Now open for lunch Tuesday to Sunday as well as dinner seven nights a week from 6pm to 11pm.
Sample Menu Bds
Appetisers: $14-$18
Cheese Nachos
A plateful of crunch tortilla chips topped with zesty 3-cheese sauce and served with spicy salsa.
Mini Taquitos
Two corn tortillas wrapped tight around your choice of chicken or beef filling, deep fried and served with sour cream and guacamole.
Main Course $30-$44
Burrito
Your favourite filling served in a soft flour tortilla, with crisp iceberg lettuce, fresh salsa, cheese, beans and topped with sour cream, guacamole and zesty cheese sauce.
Mexi Burger
Delicious hamburger topped with a drop sour cream, guacamole's and finished off with some sliced jalapeno peppers.
Shrimp Ajo
Flame grilled South American shrimp, brushed with butter & garlic and simply served on a bed of lettuce with Spanish rice & beans.
Sol Soft Tacos
Either tender top sirloin strips or plump South American shrimp, served fajita style, on soft flour tortillas with sides of pico de gasso salsa, iceberg lettuce, cheddar cheese and sour cream ... make them however you like them!!!
Tex Mex Menu - Margarita Bar
More fantastic Barbados restaurants on the South and West Coast to check out.
Return from Cafe Sol Mexican Grill to Barbados Restaurants

Return from Cafe Sol Mexican Grill to Best Barbados Beaches homepage