Thinking of getting Married in Barbados .. where do I get information?
Thinking of getting married in Barbados, do you want to plan the wedding of your dreams in the Caribbean or the perfect romantic honeymoon, it can be done quite easely.
Barbados has a long tradition of hosting newlyweds and the island can provide all the necessary ingredients to ensure that getting married in Barbados will always be remembered with great pleasure.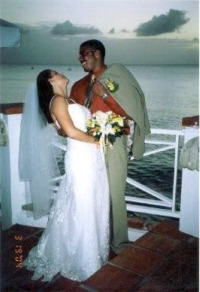 There are a number of well regarded wedding coordinators on the island, with a wealth of experience for those planning on being married in Barbados.
They will look after every detail before, during and after the big event.
A number of hotels also provide and assist with every aspect.
This allows the bride and groom and their guests time to relax and enjoy the island at their leisure while someone else takes care of the details.
Over the years getting married in Barbados has become a most desirable destination for tying the knot and in 2004, world renowned golfer, Tiger Woods made the island his choice for his wedding celebrations.
So whether it's a traditional ceremony in an old country church or on the deck of a yacht under a star studded sky the choices of romantic settings is endless.
What you need to know and have to get married in Barbados
Recent legislation has eliminated the advance notice requirements to marry on the island, allowing couples to marry as soon as a license is obtained.
The general requirements for couples wanting to get married in Barbados are:
A valid passports
The original or certified copies of the applicants birth certificates
If either party is widowed, a certified copy of the marriage certificate and death certificate in respect of the deceased spouse will be required
If either party is divorced, an original Decree absolute, (Not the Decree Nisi) is required.
If the Decree Absolute is in a language other than English, it must be accompanied by a certified translation, and a letter or written indication, from the Marriage Officer (including the church to which he belongs) who has agreed to perform The marriage ceremony.
Applications for a marriage license must be made by the bride and groom in person, at the office of the Ministry of Home Affairs located on the 5th Floor of the General Post Office Building Cheapside, Bridgetown.
To get the most up to date information go to this Government website Getting married in Barbados If neither the bride nor groom is a citizen or resident of Barbados, the license fee is BDS$150 cash and $25 stamp duty.
Return airline tickets must also be presented.
---
Get married in Barbados the "stress free way" by using a wedding planner.
Island Bliss Weddings

Island Bliss has earned a first class reputation for their personalised service and high level of professionalism.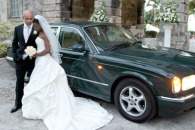 Their wedding co-coordinators offer an individual and friendly approach, "from inception", creating a unique and memorable event which reflects each client's particular personality and style.
The Island Bliss team pays special attention to every detail, always offering first rate service, regardless of how large or small the occasion.
Their combined experience and local knowledge, along with a trusted network of reputable and reliable suppliers ensures your wedding day is totally enjoyable and, most importantly, as stress free as possible.
For more information contact:
Tel: Jean Hill (246)266-4399 / Lisa St. John (246) 243-0549 e-mail: info@islandbliss.net
A wonderful wedding location is Champers Restaurant.
Champers is one of the leading restaurants on the south coast, with a solid reputation for their consistently good food.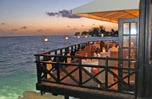 The dramatic cliff-top setting, with superb panoramic views over the ocean and Accra Beach make Champers a magical setting for weddings and private functions.
Alive with vibrant Caribbean design and atmosphere, there are few setting as stunning as Champers for any special occasion.
For further information contact:
Skeetes Hill, Rockly, Christ Church Tel: (246) 434-3463 or 435-6644 e-mail: champersinc@caribsurf.com
Wedding Photography
One of the best known wedding photographers is Eleanor Chandler a top class photographer whose superb work has appeared in international publications, such as Brides, Vogue, Harpers, Town and Country, Hello and OK.
Capable of producing exceptional wedding photography Eleanor has become a very popular choice with newlyweds.
In October 2004 she was photographer for the much publicized wedding of celebrity golfer, Tiger Woods at the prestigious Sandy Lane Hotel.
For further information contact:
Tel: (246) 432-0113 Fax: (246) 432-7325 e-mail: ephoto@caribsurf.com
---
Beach Wedding Advice
Ideas For Planning a Destination or Beach Themed Wedding Celebration
Caribbean destination weddings are perfect for when a honeymoon in paradise just isn't enough. For a beach wedding you might want to opt for light and airy fabrics and skip the long train and veil.
Destination wedding dresses are as much fun to choose as the destination it self, find out more about destination wedding gowns, unique island wedding locations, wedding packages, destination wedding planning, compare destination wedding costs with a traditional wedding and read all about romantic honeymoon destinations in the Caribbean and worldwide.


---
Excellent Romantic Vacations - Ideas and tips on romantic vacations, honeymoon destinations, and romantic getaways worldwide.


---
Return from getting Married In Barbados to FAQs page

Return from getting Married In Barbados to Best Barbados Beaches