Pride of Barbados the National flower
The Pride of Barbados is the National flower of Barbados as the picture below shows it's a beautiful and very delicate looking plant.
Blooming all year-round this spectacular plant also known as (Caesalpinia Pulcherrima) but much better known as, Red Bird Of Paradise, Dwarf Poinciana or Flower Fence can be found growing in many gardens and also wild all over Barbados.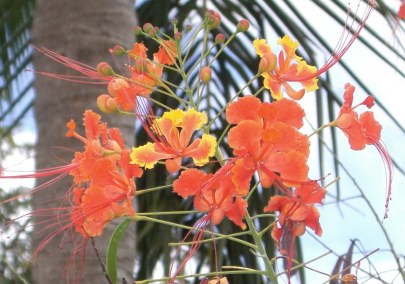 In Barbados the most common colour seems to be the red with yellow around the edge of the petals, all yellow or orange flowers are not uncommon and very pretty.
It can be easily pruned and if planted closely enough can form a wonderful hedge of constantly blooming flowers attracting many hummingbirds.
The Pride of Barbados is an open bushy plant and can grow to be quite a large feathery shrub of delicate flowers of up to 13 feet or more in height.
Generations of Barbadians from the past have used the Pride of Barbados for its medicinal and therapeutic qualities.
The juice from the leaves is said to cure fever, the juice from the flower is said to cure sores, and the seeds are said to cure bad cough, breathing difficulty, and chest pain.
Four grams from the root is also said to induce abortion in the first trimester of a pregnancy.
Return from Pride of Barbados to FAQs page Return from Pride of Barbados to Best Barbados Beaches