The Ship Inn Barbados .. is the place to go for nightlife and entertainment
Custom Search
The Ship Inn Barbados, is a big night club housed in a 250 year old remodeled plantation house. It has a combination live music bar, sports bar and restaurants.
The Ship has been swinging and sailing for over 30 years, now but is still the the best place to start or end a bar crawl in the Gap.

There are two happy hours specials that include 2-for-1 drinks from 4pm until 6pm and another from 10pm until 11pm just to make sure that everyone is relaxed and ready to dance when the action starts.
On weekends it's not unusual to find a couple of hundred people dancing and having a good time to the excellent live music at four in the morning.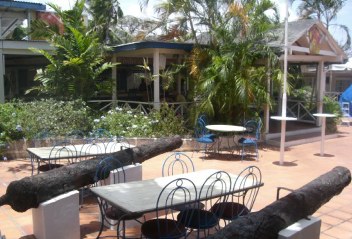 If you get hungry or need something to just keep you going they serve up good pub grub or try the fish cutters among other foods at Barnacle Bill's barbecue.
Return from Ship Inn Barbados to St Lawrence Gap




Return from Ship Inn Barbados to Best Barbados Beaches