Barbados horse racing .. an exciting new experience
Barbados horse racing is an experience that racing fans will not soon forget.
Although the races are much the same as anywhere else the incredible excitement produced by the exuberant Bajan spectators is fantastic and truly contagious.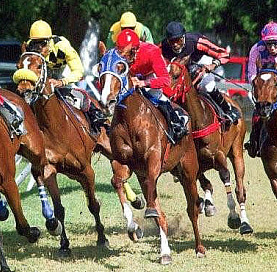 It's a great day out for the whole family, if you have kids there's a small park where they can play in between races.
You will get to meet the local people who will gladly fill you in on who to place your bet on - which jockey is the best and the horse that's "for sure" going win.
Horse racing takes place at the Garrison Savannah racetrack which is located in the Parish of St. Michael on the outskirts of Bridgetown where racing has been held since the 1800's.
The Garrison has quite a history to it as it was in this area where the British military was stationed at the time. It was the officers of the British regiment that began racing their horses against each other competitively that started the sport of horse racing in Barbados.
It wasn't long before those with wealth and social standing became involved.
The Barbados Turf Club which was formed in 1905 regulates and promotes horse racing in Barbados.
The horse racing season is held almost the entire year around the Turf Club breaks it up into three racing seasons, January to April, May to August and October to December, so if you're visiting Barbados there's a good chance you will get to take it in.
Racing can be viewed from a number of different areas, the grand stand - the field stand - the Chandler stand, or if you like you can hang out under the shade of the trees around the track.
Cost for entrance to the stands for regular races is:
Grandstand - $20.00
Chandler Stand - $10.00
Field Stand - $10.00 - Prices in Barbados dollars
Prices vary on holidays and Gold Cup day.
For more information on horse racing in Barbados go to the Barbados Turf Club website.

Another sport that has gained popularity in Barbados is polo it's a great fun filled day out for the whole family.


The Canadian Connection to Barbados horse racing
If you're a horse racing fan from Canada you might have noticed the number of Barbadian horses and jockeys entering races in Canada.
Barbadian jockey Anderson Ward, riding the outstanding four year old horse Daylight Express, along with Barbadian trainer Robert Pierce represented Barbados recently at Woodbine race track in Toronto.
Leading rider in Canada, Barbadian Patrick Husbands was in the saddle riding the six year old gelding Sterwins another Barbadian entry in the same race.
There were a number of other Barbadian entries demonstrating the quality of both jockeys and horses produced in this speck of paradise called Barbados.
Return from Barbados Horse Racing to Sports in Barbados

Return from Barbados Horse Racing to Best Barbados Beaches