Polo in Barbados is a day full of excitement
Custom Search
Polo in Barbados
is another activity that visitors to this beautiful tropical Caribbean island are usually surprised to find.
You might wonder how polo was introduced to the island?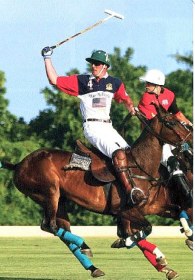 Like most things on Barbados it dates back to when the British ruled the island.
The British cavalry officers were the original polo players in Barbados from as early as 1884, when the Barbados Polo Club was established.
In many places polo is regarded as an upper class sport to be enjoyed only by those of social standing, not so in Barbados, everyone is welcome to the matches.
Polo in Barbados is great fun to watch and polo matches are very friendly social occasions where you will get to meet the local Bajans.
One is expected to behave properly but other than that everyone is made welcome whether you are wearing designer clothes or a comfortable pair of shorts.
Because Barbados is so laid back you can bring your own well packed cooler with goodies to eat and drink or use the clubhouse's lively and well stocked bar where you might bump into a celebrity or even Royalty.
For first time visitors to a polo match many are awed by the speed and skillful horsemanship of the players, the ability to maneuver with one hand and hit the ball with a heavy wooden mallet in the other at the same time is amazing.
The players are certainly a brave group of individuals as this is all done at great speed. With the introduction of high handicap tournaments, involving some of the world's top class players and increased corporate sponsorship.
Along with the international media coverage that goes with such high profile events, polo in Barbados has been propelled to unprecedented heights.
There are now four polo fields in Barbados.
The main field is at Holders Hill in St. James, it was here that polo really grew, the place is steeped in history with all kinds of photographs of bye - gone days on display. The Barbados Polo Club is located here.
The Water Hall polo field also in the Parish of St. James, is located on a beautiful elevated very picturesque site.
It has been host to many international teams from South Africa to Australia.
The Lion Castle polo grounds are located in the beautiful central Parish of St. Thomas in Barbados this is a world class polo field and club house.
Lion Castle is only a ten minute drive from the fantastic West Coast beaches.
Clifton polo field was created by a local Barbadian polo player and is also located in St. Thomas, the panoramic views of the South Coast from this location are truly stunning.
At Clifton you can enjoy polo at its best and soak up the atmosphere of this wonderful tropical Caribbean island.
Polo in Barbados is a great day out for the whole family, the kids enjoy watching the horses and are free to run around when the match is over.
The polo season generally runs from December to April, just in time for visitors escaping the cold weather.
To get more information about polo matches and schedules visit the Barbados Polo Club website.
Or contact: