Villa Elsewhere Barbados
The history of Elsewhere Barbados, Sandy Lane

Elsewhere, Barbados was built in the 1980's for Fauzi Saba, the Middle East partner of Coopers & Lybrand. The house was originally named Dar es Salaam, meaning House of Peace.. Robertson Ward Associates designed the house. The first design submitted was much more traditional than the house ended up - the kind of architecture that was then more expected in Barbados at that time.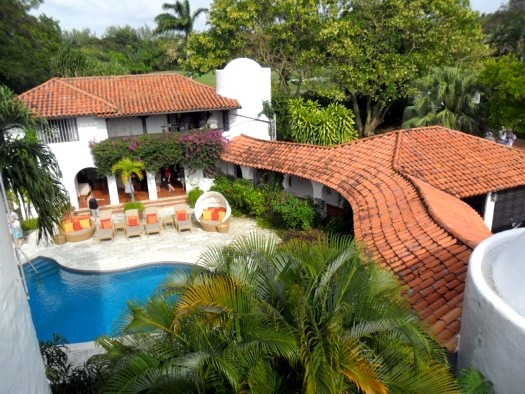 The garden, at Elsewhere Barbados is always lovely, it was developed by the subsequent owners into a truly gorgeous and romantic experience.
Beneath the house is a man made cave. Early inhabitants of Barbados used caves that were hewn out of the rock in regular forms, similar to those found in the Canary Islands, complete with niches to serve some mysterious purpose. This one has niches also, which are thought to have been for cooking.
Villa Elsewhere is now owned by Geetika and Anshu Jain, and managed by Altman Real Estate.
TOURING THE HOUSE, Villa Elsewhere Barbados
Surrounded by big trees including immortal, mango and African Tulip, Elsewhere's circular driveway and fountain suggest that you've arrived some place special. If that doesn't convince you, step inside. Above you is a high dome painted ultramarine blue with, stars, from which hangs a sensual metal chandelier over a central, coral-stone table. Distressed mirrors and arched doorways add to the mystique.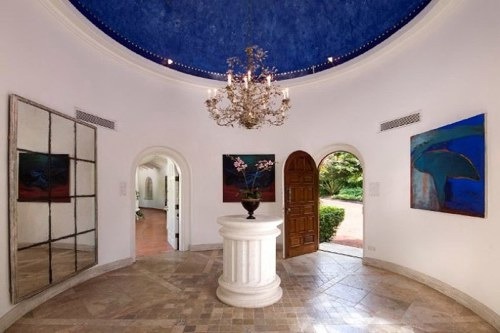 As you go down the colonnaded walk, and head up circular stairs with its own starry dome. Ahead there are two airy bedrooms, one with a tray ceiling, a very Barbadian feature. Both have ensuite bathrooms accented with the same vibrant blue of the domes.
The patio that connects them overlooks the kidney shaped pool and the other wing of the house with yet more domes. Along with the brass lanterns, arches, mosaic details and stark white walls, these are reminders of the first owner's Middle Eastern heritage.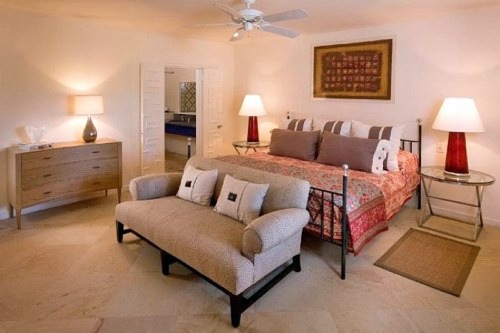 Back downstairs is a welcoming poolside lounge with comfy furniture and its own bar. This room opens on both sides to form an airy pavilion.
Trailing Bougainvillea frames the view of the pool deck furnished in all weather wicker furniture.
As you come across the opposite wing, you might notice some intriguing trees with large lobed leaves. Unusual in a garden setting like this, these are trumpet or pop-a-gun trees, rich in medicinal properties, and enjoyed in the olden days by boys who used hollowed stems as pea shooters.
Once in the other wing of Elsewhere Barbados if you turn right you'll find a bed room whose focal point is a beautiful sleigh bed in highly polished wood. Its bathroom features original tile work surrounding the bath tub. The room's private balcony overlooks the lower lawn with voluptuous philodendron climbing the mahogany trees and stands of stripy pandanus, a plant used in local basketry.


In the hall are photos of large cats in action. Mrs. Jain, a travel writer took them in Africa. Turn right into the next bedroom with its woven bamboo bed and interesting side tables - two trunks, one of the traveling type and the other from a tree. French doors lead onto a little balcony.
In the stair hall where a ruby glass lamp adorns a cherry wood table. Upstairs you will find a large, airy bedroom where accents bring the surrounding beige to life. In it are a very interesting chest of draws and side tables made to look like a leather bound trunk, covered with carpeting, and interesting artwork of such things as a rock star rhino.
At the other end of the hall is the master suite. First comes an alcove for closets and storage, probably designed for the original owners to stash their stuff in when the place was rented out. To the right is an elegant bathroom in marble with sinks and privacy for two, as well as a phone. Overlooking the pool, a dome, the back garden, and part of the living room, the master bedroom rules the roost. The floor tiles have an interesting feature, their edges are beveled. A spacious patio makes a great place for breakfast in private or lingering over a good book.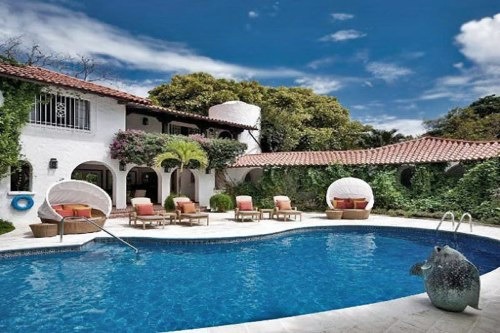 If you like, head back to the stair hall and go up under another dome. There isn't another room up here, but there's a very private deck with a wonderful view of the gardens and Sandy Lane's Old Nine golf course. The panels you see on the roof are passive solar collectors for hot water, a system that, quite sensibly, is widely used in Barbados.
Back on the ground floor, head diagonally to your left and you'll find a wood-lined study with photographs of Barbados. More photographs line the corridor.
You'll soon arrive at a T junction. Ahead is a rustic courtyard with a fountain, and a lovely Petra vine. The snail sculpture reminds us of the presence of giant African snails in Barbados, a nightmare for farmers and horticulturists.
Heading towards the back and to the left, you enter a spacious and distinctive living room that opens onto the courtyard on one side and a broad veranda on the other. Pillowed couches provide comfortable seating. Objects of interest include lamps made of cow-horn and of beautiful glass, a lovely chandelier, coral specimens, ornately carved tables, works of fabric art, and mirrors which are likely of Venetian glass. There is no access to the kitchen but one can get a glimpse into it from a courtyard window.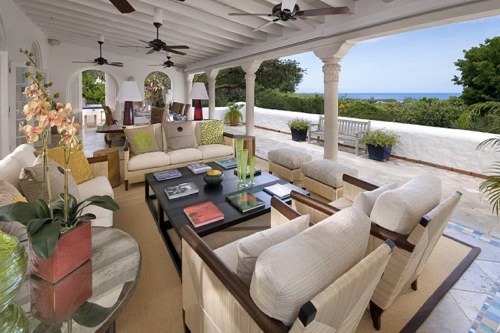 The veranda of Villa Elsewhere Barbados has a border of mosaic tiles, coral-stone console tables, more mirrors,potted palms, a dining table for ten, and unique columns Sunshades shield the area from the glare of the afternoon sun. An archway to the left leads to a serious barbecue area.Step down and you're on an open patio with another beautiful view.
Descend the stairs and there's an alfresco dining terrace overlooking lower lawns. On the next level down, the pavers on the right lead to an apartment in Elsewhere Barbados with its own private patio.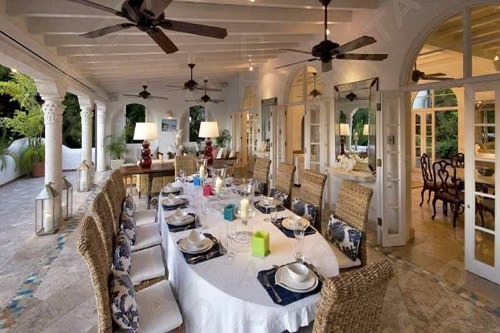 Other steps down lead past flowing falls and fountains, lagoon koi ponds, and close-up views of wonderful tropical plants including elephant ears, philodendron, lotus and water lilies, yucca, and papyrus.
You may want to rest in the arbor by the pond of Elsewhere Barbados. If you're prepared for an uphill trek back, enjoy exploring further. On the way up, you can observe the hunks of coral in the stone wall, and might find the cave.
Return from Elsewhere Barbados to Barbados open house tours